Welcome to the Killin Mountain Rescue Team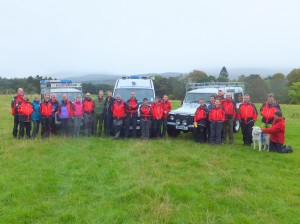 Killin Callander and District Search and Rescue Group is an incorporated Scottish Charity and operates as Killin Mountain Rescue Team. We have rescue posts at Killin and Callander and are affiliated to the Mountain Rescue Committee of Scotland.
Our unpaid volunteer members are available to assist members of the public who find themselves in difficulty on the mountains and remote areas of West Perthshire which is in the northern part of Loch Lomond and the Trossachs National park. Mountains such as Ben Lui, Ben More, Stob Binnien, Stuc a Chroin, Ben Ledi make the area popular with hillwalkers all year round.
Please ensure you are properly equipped for your trip. The weather can deteriorate quickly. Most of the incidents in our area are due to people losing their way in mist. If you have not been trained to use a map and compass in poor visibility be prepared to retreat early.
If you require Mountain Rescue assistance in an emergency dial 999 ask for the POLICE, who will arrange the appropriate response. In a non emergency situation contact the Police on 101
Safe trekking.