The last week has been pretty busy for our team and it's volunteers.
At the weekend, the team was training on Ben Ledi. The focus of the exercise was to practice navigation skills and area familiarisation. The team was working close to Lochan nan Corp. Named so because ancient local folklore tells us that 200 people perished in the Lochan in the mist, ice, and snow. There has never been evidence of this, and the truth is that it's an old funeral passage (old corpse road) to transfer the remains of people between villages. Thankfully, the teams navigation in the location was spot on, and no one ended up in the Lochan.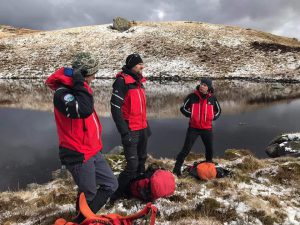 As the team were training on Sunday, 26th March, they were called out to assist a couple of walkers on Auchlyne near Killin lost in the mist . Thankfully, the team was able to resolve the incident fairly quickly and ensured the safety of hillgoers.
On Tuesday 28th March, the team were called to assist a group who had became lost and disoriented between Ben More and Stob Binnein, again falling foul of the weather and mountain conditions making them feel unsafe on the terrain. Thankfully, the team were able to locate them after a walkout to the suspected location. Given the risk of the conditions and mountainess environment becoming difficult, the team also requested the backup of our neighbours at Lomond Mountain Rescue Team, who were stood down just as they were about to deploy.
Thanks to Police Scotland Forth Valley for assistance and deploying the team on both incidents, which were the 12th and 13th callouts of the year.
The common thread throughout this post is the importance of being equipped for conditions and capable to navigate in conditions that might be difficult to see where you are going. Very few mountains have complete paths and require you to be skilled in map and compass use. The terrain can change quickly and it's important you are equipped and skilled for these eventualities.